Thanks to Boreal Mountain, there will be Thanksgiving holiday skiing and snowboarding in Lake Tahoe after all.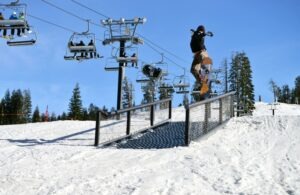 With the high possibility of no holiday skiing for the first time in perhaps 25-plus years due to high temperatures and no snow, Boreal announced Thursday it would be opening Friday (Nov. 26) for what it hopes is the remainder of the 2022-23 season.
"We're back baby! Set your alarm clocks for Friday to wake up from your food coma to head up and shred the slopes," the Boreal website stated. "We're thankful the temperatures have dropped and grateful for our snowmaking team working tirelessly to make sure Boreal can now be open seven days a week."
In a surprising announcement, Palisades Tahoe also partially opened Friday morning after believing it would be closed over the Thanksgiving holiday. The resort, formerly Squaw Valley, says its snowmaking crews laid down enough of a base to open one beginner lift with limited terrain.
Boreal, a small resort located just off Interstate 80 on the Donner Summit, has always enjoyed a niche for its night skiing. The holiday hours will be 10 a.m. to 8 p.m.  Typical Monday through Friday hours are noon to 8 p.m.
Note that all Boreal skiers and riders are required to purchase tickets or passes before they arrive. Night Passholders will have access from 3 p.m. to closing. Lift Tickets and 3-Pack Ticket packages will also be available.
One other California ski resort open for the Thanksgiving holidays is Mammoth Mountain. Its website says it has currently been offering top-to-bottom skiing throughout the week.                                                                                               
For the first time in our memory (I've regularly covered the Tahoe ski season since 1995), there was a chance that no skiing or riding would take place over the Thanksgiving holiday.
No skiing over the Thanksgiving holidays would have been unprecedented, according to Bill Jensen, who has lived and worked in Tahoe for approximately 40 years.
"I can't recall this situation (of no Thanksgiving skiing). Back in the day, Boreal with its high elevation, always seemed to have a lift or two open by Thanksgiving," said Jensen, who worked for the Squaw Valley marketing department from 1980-90. "In my time with Squaw Valley, Thanksgiving was always considered "gravy." I don't recall not being open by then."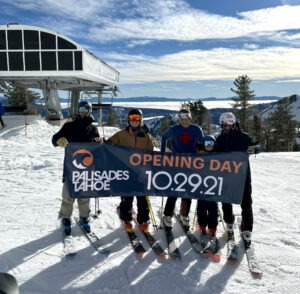 Palisades has experienced many Thanksgivings with its slopes closed. The Tahoe resort has had 13 ski seasons in the past 60 years that started after Thanksgiving.
"It's not as infrequent of an occurrence as many are remembering. The last time we opened after Thanksgiving was 2008," said Palisades spokesperson Alex Spychalsky.
One can thank Mother Nature for the barren slopes. There was a promising snowfall in late October, allowing both Palisades Tahoe (formerly Squaw Valley Alpine Meadows) and Boreal to open prematurely on Oct. 29.
However, rising temperatures and rain over the Donner summit halted skiing at both resorts following the Halloween weekend.
Tahoe ski resorts have been dependent for more than a decade on snowmaking for the bulk of its early-season snow. But this year nightly temperatures haven't dropped enough to warrant regular snowmaking.
"Four solid days of snowmaking and we'll be close. But it needs to get cold and stay cold," said longtime Mt. Rose ski resort marketing director Mike Pierce. "Mt. Rose has been pretty consistent on early openings pre-Thanksgiving, but there are a few seasons that got off to a later start."
Only three times in the past 20 years has Mt. Rose had to push back its opening date into December. That's one less than its four October openings, including three straight in 2017-18-19.
Chris Johnston, a meteorologist with the National Weather Service office in Reno, said the dry November conditions are not "super typical." He noted that November 2016 was dry and then in the winter months of 2017, it was abnormally wet.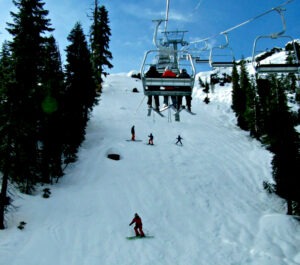 Ideal temperatures for ski resorts to make snow is 28 degrees or less. Johnston's forecast calls for temperatures warming through the week and getting as high as 55 degrees by Thanksgiving.
Pin some of the blame for lack of snow and unseasonably high temperatures on climate change. Last season was a poor one for snow. Only one Tahoe ski resort (Palisades) reached the 300-inch snow mark for the season.
In many "normal" snow years, the totals of at least several Tahoe ski resorts exceeds 500 inches. Last season, several ski resorts failed to even reach 200 inches.
Expected to open Nov. 26, Sugar Bowl also reluctantly announced Monday its lifts would not be running over the Thanksgiving holiday.
"We held onto hope as long as we could. But with a forecast calling for more mild and dry weather in the week ahead, we must delay the start of our winter season," Sugar Bowl spokesperson Jon Slaughter said. "This means we will not be open for the upcoming Thanksgiving holiday weekend."