Too much snow is rarely a bad thing. But that was the case today at Alpine Meadows in Lake Tahoe, where several avalanches shut down the ski resort for the entire day. There were no injuries reported.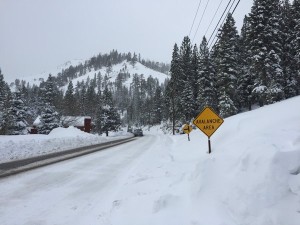 Alpine ski resort issued a statement that said the Alpine Meadows Road area experienced three natural avalanches this morning, two of which impacted the road. The debris from one of these avalanches impacted two vehicles around 7 a.m., one containing three resort staff and one containing a lone civilian.
When officials arrived, they found the car trapped in the avalanche. North Tahoe Fire and Ski Patrol then arrived and were able to free the car fairly quickly. There were no injuries and both vehicles were cleared from the road. The resort continued avalanche mitigation on Alpine Meadows Road.
The avalanche blocked a portion of Alpine Meadows Road between Bear Creek Drive and Deer Park Drive, according to the California Highway Patrol. The Sierra Avalanche Center said that the avalanche was natural and not created by human activity.
It was decided quickly that operations at Alpine Meadows would be closed for the day. Nearby Squaw Valley, which is owned by the same management group, didn't open until the afternoon due to the possibility of avalanche danger.
Alpine received 13 inches of snow overnight from a hard-hitting storm on Wednesday night. Although other regions of Tahoe were still receiving considerable snow today, Alpine was reporting just 1 inch of new snow today by late afternoon.
Squaw reported 16 inches of overnight snow and 4 more inches today as strong winds continued. Squaw Valley shut down its upper mountain for the day, but did open some lifts at the lower level.