The 2019-20 ski season kicked off Friday (Oct. 11) in Colorado, where Arapahoe Basin Ski Area was the first resort to open in North America.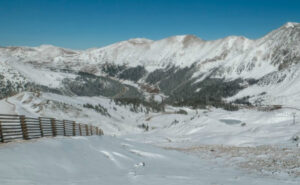 It could be the case of a little one-upmanship by Arapahoe Basin. The resort made the announcement after learning that nearby Keystone Resort was planning to open Saturday, Oct. 12. It is Keystone's earliest opening in more than 20 years.
A-Basin has opened one lift – Black Mountain Express lift – from at 3:30-5:30 p.m. Friday. The lift will reopen at 8:30 a.m. Saturday, Oct. 12. After closing for the 2018-19 season July 4, A-Basin was closed for only 99 days, the shortest off-season in its history, according to the resort. Temperatures are expected to be in the high 40s Saturday.
"We did this because the snow (12 inches earlier this week) is really good, our people are anxious, and we are ready to go," A-Basin Chief Operating Officer Alan Henceroth wrote in his blog. "We thought it would be fun."
A-Basin will have an 18-inch base and lift tickets Saturday will be priced at $95 for adults, $80 for youths ages 15-18, and $51 for children ages 6-14.
Keystone made its decision for the early-season opening following a significant snow storm in Colorado this week that dropped 8 inches on the resort. According to the Keystone website, the resort currently has a base of 19 inches. Keystone Resort will open at 9 a.m. on Saturday. Lift tickets will cost $15.
Keystone will operate the River Run Gondola and Montezuma Express lift with access to Schoolmarm, Silver Spoon and Last Chance runs. Skiing and riding will be open from the top of Dercum Mountain to the bottom of the Montezuma lift. At the end of the day, skiers and riders will download on the River Run Gondola to return to the base area.
The high temperature Friday at Keystone is expected to be 34 degrees with a low of 5 degrees in the early morning. Saturday's forecast calls for a sunny, clear day with a high of 50 degrees and a low temperature of 16.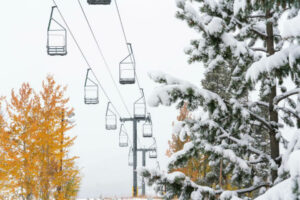 "With Keystone's early opening, and Breckenridge's plan to operate through Memorial Day, the two resorts will offer one of the longest ski seasons in the country, providing even more value for our Epic Pass holders," said Jody Churich, Keystone's new vice president and general manager. "Our mountain operations team put in a tremendous amount of hard work to get our new snowmaking system ready for Keystone's early opening. Heading into my first winter as GM at Keystone, I'm so proud to be joining this incredible team."
LAKE TAHOE: No Lake Tahoe ski resort has announced specific opening dates yet for the 2019-20 season.
Both Northstar California and Heavenly Mountain are scheduled to open on Friday, Nov. 22 and Kirkwood Mountain is five days later – Nov. 27. The dates are weather and conditions dependent.