A storm that arrived Tuesday dropped 16 inches of new snow on Alpine Meadows, the most among Tahoe ski resorts.
The storm delivered between 4-16 inches by Wednesday morning (Feb. 3) on the summits of Tahoe ski resorts.
After halting sometime overnight, a cold, weak, and windy system Wednesday was bringing late morning snow through the afternoon.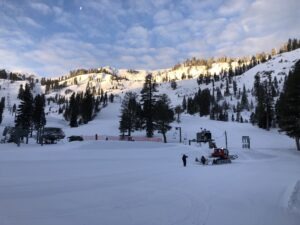 TAHOE SNOW REPORT (snow total Feb. 3; season total)
Alpine Meadows: 16-196 inches
Squaw Valley: 12-196 inches
Boreal: 11-190 inches
Soda Springs: 11-189 inches
Sugar Bowl: 13-181 inches
Sierra-at-Tahoe: 8-179 inches
Kirkwood: 7-168 inches
Homewood: 8-157 inches
Mt. Rose: 4-140 inches
Northstar: 7-138 inches
Heavenly: 6-125 inches
Diamond Peak: 4-111 inches
Tahoe Donner: 5-119 inches
Squaw Valley Alpine Meadows was the big winner in snowfall, giving the resort the most snow this season in the Tahoe region – 196 inches. Squaw Valley was reporting a foot of new snow Wednesday morning. The additional snow continued the trend. Over the previous week, Tahoe ski resorts received between 4-7 feet of snow from a series of storms.
"We have an 8-10-foot base of snow on our upper mountains, and we're nearing 200 inches of total snowfall for the season," said Squaw Valley Alpine Meadows spokesperson Alex Spychalsky.
Soda Springs and neighboring Boreal Mountain have enjoyed consistent snowfall over the past 10 days and are close to the 200-inch mark for the season, and could reach or exceed it by Wednesday evening when the snow is expected to subside. Every Tahoe ski resort has 100 or more inches for the 2021 season.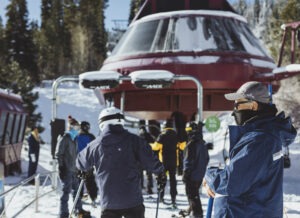 WINDS WILL CONTINUE: According to Bryan Allegretto, California Snow Forecaster for OpenSnow.com, on Thursday the Tahoe region transitions into a drier pattern through the weekend. However, the weather will not be ideal for skiers and snowboarders. Expect gusty winds both Thursday and Friday.
Allegretto said ridgetop winds dropped from 99-plus mph Tuesday to 80-plus Wednesday morning, causing some more wind holds for exposed upper mountain lifts. Thursday and Friday anticipate mostly sunny skies. The good news is that we should see lighter winds through the weekend.
"We could to see ridgetop gusts up to 40-plus mph from the northeast Thursday and up to 70-plus mph from the northwest Friday," wrote Allegretto. "That could affect some exposed upper mountain lifts Friday. High temperatures in the 30s on Thursday, warming into the 40s by Friday."
SUPER BOWL WEEKEND: For the weekend, Allegretto anticipates high pressure to continue to build in with the ridge along the West Coast. That will continue the dry pattern through the weekend and into Monday with sunny skies and highs in the 40s.
Beautiful weather for the second weekend in a row after fresh snow, so the crowds at Tahoe ski resorts will likely return.