Siouxsie Jennett was comfortably basking in the sun on a late March afternoon, enjoying some well-deserved relaxation at the scenic Village at Northstar.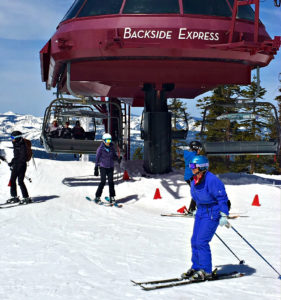 While her three children were nearby playing, the Santa Barbara mom was resting on a comfortable deck chair, talking with a friend. Skiing was done for the day and it was kick-back time for Jennett. The bluebird spring snow conditions – sunny skies, no lift lines, plenty of quality snow – had made for quite the pleasant day at Northstar California.
"The older I get, the more of a fair-weather skier I've become," Jennett said. "We lucked out completely with the weather on our spring break trip. We thought we might be getting rain, then it snowed heavily and we had an epic powder day on Sunday (March 27)."
It's been a mixed bag for spring skiing this year at Northstar and other Lake Tahoe ski resorts. While there have been sun-drenched days where skiers and snowboarders head down the slopes in light clothing, there have also been some rainy weather and cloudy, colder days that don't allow for the typical spring conditions that Tahoe visitors have come to expect. The final week for many resorts may even include snow.
Despite the possibility of more snow arriving, Kirkwood Mountain will be the first Lake Tahoe ski resort that shuts down – Sunday (April 8). Eight other Tahoe ski resorts have announced April 15 closing dates. Northstar will pull down the curtain on its season April 15.
Northstar expects another spring-like day this Sunday after several days of warm temperatures that dropped mostly rain instead of snow. Spring skiing is normally a time to adapt a different attitude. For many skiers and riders, it becomes more about relaxing and just being on the hill, cruising down the slopes, and having a good time.
"April skiing is (usually) all about soaking up the last bit of winter and spending time in the sun. Skiers and snowboarders are looking for a more relaxed day and après drinks on the deck," said Northstar spokesperson Stephanie Myers said. "This time of year, we often see families lounging around the roller rink recovering from a busy winter and sliding into spring break mode."
The rink is the center piece of Northstar Village. It typically draws a post-ski crowd regardless of the day or weather. Yet on a sunny spring afternoon it can be difficult to locate an unoccupied seat. Many guests are in shorts and not even a light jacket is required.
The Northstar rink contains many young children, while the adults typically congregate around the comfortable couches and deck chairs in areas that have an overhang to ward off the sun and a fire pit that adds to the warmth.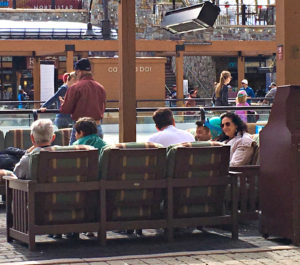 "The Village is beautiful, just gorgeous," Jennett said. "It has all the amenities that anyone would need. The people who work at Northstar are super friendly and the atmosphere is very chill."
There was one thing that really stuck out about Northstar that Jennett hadn't anticipated. When her husband pulled into a loading/unloading area in the morning, awaiting the Jennett family were complimentary wagons. Instead of lugging all their equipment a couple hundred yards where the gondola is located, which is always a dreadful chore, especially for children, the wagons were a terrific transportation surprise.
The wagons are always found at a minimum of three locations (loading zone, transit center, Big Springs Gondola). There are dozens of wagons throughout the Village at Northstar.
"Using the wagons makes everything so much easier," Jennett said. "We loved it."
2018 Closing Dates
Kirkwood Mountain: April 8
Diamond Peak: April 15

It was a fun day on the slopes last Fourth of July at Squaw Valley. The resort stayed open through July 15, offering 200 days of skiing and riding for the 2016-17 season, a resort record.

Northstar California: April 15
Soda Springs: April 15
Boreal Mountain: April 15
Sugar Bowl: April 15
Tahoe Donner: April 15
Sierra-at-Tahoe: April 15
Homewood Mountain: April 15
Granlibakken: April 16
Heavenly Mountain: April 22
Mt. Rose: April 29
Squaw Valley: May 28
Alpine Meadows: May 28