The Fourth of July holiday will look dramatically different this year in Lake Tahoe. Due to the COVID-19 pandemic, there will be no fireworks in the Tahoe basin.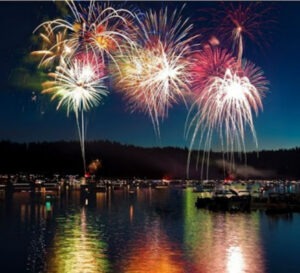 Although many people will still be heading to Tahoe for the Fourth of July weekend, the emphasis will be on practicing social distancing on beaches, campgrounds and along hiking trails. Masks should be worn at anything being held indoors.
Tahoe-area campgrounds are booked, and the U.S. Forest Service Lake Tahoe Basin is urging visitors to wear masks, practice social distancing and leave fireworks at home. He Tahoe region is expected to host close to 100,000 visitors this weekend.
Fire safety remains a top priority for the region and many restrictions went into effect June 1. This includes the suspension of all solid fuel recreational fires and open burning. Campfires continue to be the leading cause of wildfires in the Tahoe Basin; it is important for visitors and residents alike to know that open-flame devices and all fireworks, including sparklers and firecrackers are not permitted.
"We have all been under some state of stay-at-home or safer-at-home (order) for the past several months," Lake Tahoe Forest Acting Supervisor Danelle Harrison said. "The weather is warm, it's nice. So, people are going to be naturally drawn to that outdoor environment."
Campfires are only allowed in designated spots or in Desolation Wilderness. Campfires are forbidden other than in developed campsites, in fire rings and places that are hosted. There will be no bonfires on beaches or charcoal barbecues. And local officials hope people are not doing their own fireworks show.
"There seems to be a movement where people in urban areas are setting off a lot of fireworks. We hope that doesn't happen up here," said Bob Becker with Lake Tahoe Basin Management Unit. "This is not the place for fireworks. So please, leave your fireworks at home."
Additionally, there are alcohol bans at Zephyr Cover Resort, except for their beer garden, Nevada Beach, Chambers Landing and Zephyr Shoals.
"We're going to see our South Lake Tahoe Mayor Jason Collin said. "We're trying to find the harmony of public safety, and also the economic benefit and the environmental impacts as well."
Six Ways to Enjoy Lake Tahoe
Know Before You Go: Travelers can navigate current information across state and county lines and plan ahead with details compiled by North Lake Tahoe, South Lake Tahoe and Truckee specific to their regions. Visitors are also encouraged to call hotel properties and other businesses directly for clarity on their individual policies and guidelines.
Spread out on 40 public beaches: Explore little-known hidden gems. Find out how to get there and which beaches have exactly what you're looking for. Learn about Lake Tahoe's beaches at tahoepublicbeaches.org, and about lakes, reservoirs and rivers in Truckee at truckee.com.
Go for a hike: Venture out and consider seeking some of Tahoe-Truckee's less-traveled trails. Whether you're looking for an easy stroll for the whole family, or a longer trek with steep switchbacks and stunning views, there's something for everyone. Find the perfect hike in North Lake Tahoe, South Lake Tahoe or Truckee.
Explore on two wheels: Whether you prefer paved paths or dirt trails, Lake Tahoe and Truckee have an extensive trail network for cycling enthusiasts of all experience levels to enjoy. Locations include Tahoe East Shore Trail to paved trails that surround the lake and the Truckee Legacy Trail. There are also mountain bike trails throughout the region.
Get on the water: Lake Tahoe or Donner Lake offer plenty of ways to experience the region's high alpine lakes. Activity modes include Kayak, Standup paddleboard, Wakesurf, Water ski, Parasail, or Jet ski. Human powered or not, the options are extensive. Rental operators and experiences are linked on destination websites: South Lake Tahoe, North Lake Tahoe and Truckee.
Golfing: Lake Tahoe and Truckee are home to some of the finest golf courses in the High Sierra. Gather your family foursome and schedule a tee time at one of the area's courses. Find a variety of mountain courses on destination websites: Truckee, South Lake Tahoe and North Lake Tahoe.
Regional officials also advise visitors to be aware that different requirements may exist as six counties, a city, a town, two states and the federal government all govern the Tahoe-Truckee region.