Although the ski season has ended for most Lake Tahoe ski resorts, Squaw Valley Alpine Meadows ski resort remains open for much of May.
The closing of Mt. Rose last week left just one ski resort open. Squaw Valley says it will remain open until Memorial Day (May 28), weather permitting.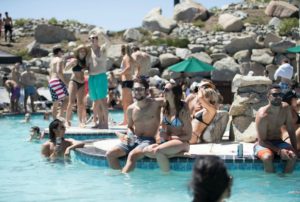 For the remainder of the month, Squaw Valley will hold special events, themed weekends and more. The High Camp Hot Tub is open and snow conditions should remain fine for skiing and snowboarding. Nearly 19 feet of snow fell in March, capping the season total at almost 35 feet, allowing Squaw Valley to offer Tahoe's longest season once again.
Squaw Valley will shift skiing and riding exclusively to the upper mountain following the closure of KT-22 Express on Sunday, May 6. The resort will operate the iconic chair until 6 p.m. on Sunday, a unique opportunity for die-hard skiers and riders looking to maximize their single-day vertical skied.
With the sun rising earlier to soften the snow, Squaw Valley lifts will operate from 8 a.m. to 2 p.m., beginning Monday, May 7. Also starting Monday, the Aerial Tram will shift operations to 10 a.m. to 4 p.m. for access to High Camp activities as well as skiing and riding.
The High Camp Hot Tub and Granite Bistro are open daily, 11 a.m. to 3 p.m. through May 28. High Camp Marketplace will be open daily 10 a.m. to 4 p.m.
Hit the slopes, then trade your boots for a bathing suit and head to the High Camp Hot Tub for cold drinks, hot water, and live music from local DJs. Parties are every Saturday afternoon from noon to 3 p.m. Cost for entry to the High Camp Hot Tub is $15 for ages 5-above.
New this year, Spring Skiing Capital gear will be on sale at Squaw One Logo Company and online at retail.squawalpine.com. Fanny packs, tees, tanks and buffs are available in bright spring colors to accent a sun-filled day on the mountain.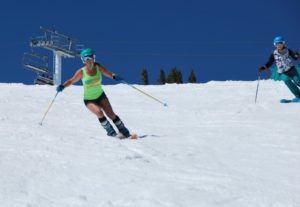 Costumes are a time-honored spring tradition at Squaw Valley Alpine Meadows. This spring, every weekend is a themed celebration and all guests are encouraged to participate.
May 12-13: Soul Train
May 19-20: Sports Fans
May 26-28: Red, white and blue (Patriotic)
The Made in Tahoe Festival celebrates all things local. The Village at Squaw Valley will host a wide array of offerings that are made or inspired in the Lake Tahoe Basin and Truckee areas – local artisans, businesses, culinarians, organizations and entertainers. Local music and entertainment includes: Bayberry Cast, Jenni Charles & Jesse Dunn, Groove Foundry, Peter Joseph Burtt & The King Tide, Sam Ravenna, Tahoe Flow Artists, Truckee Dance Factory, and the Tahoe Truckee School of Music Students & Youth Vocal Group.
Running through May 13, the Spring Vertical challenge rewards guests who ski or snowboard 10,000 or more vertical feet in one day with special offers in The Village at Squaw Valley.
2018 Closing Dates
Kirkwood Mountain: April 8
Diamond Peak: April 15
Northstar California: April 15
Soda Springs: April 15
Boreal Mountain: April 15
Homewood Mountain: April 15
Sugar Bowl: April 15
Sierra-at-Tahoe: April 15
Tahoe Donner: April 15
Alpine Meadows: April 15
Granlibakken: April 16
Heavenly Mountain: April 22
Mt. Rose: April 29
Squaw Valley: May 28