The excitement was palpable among a 150 or more anxious skiers and snowboarders who had arrived early in anticipation of a powder day at Squaw Valley Alpine Meadows.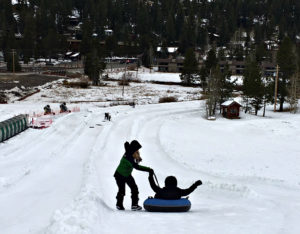 Nothing motivates skiers and riders to get out of bed early more than the promise of a powder day. And in late January, with more than a foot of new snow on the mountain, the line at the Squaw Valley Funitel was packed long before the 9 am opening.
"It's a powder day – this is what we live for," said an excited Truckee mom who was anxiously waiting in the Funitel line with her young son and husband.
Indeed, it was a glorious day despite the poor lighting and snow occasionally coming down sporadically on this very chilly morning. The bottom line – no one seemed to care. Everyone – or so it seemed – was speeding through the powder and racing to the nearest lift to maximize the number of runs on a rare day of powder in the 2017-18 ski season.
Squaw Valley Alpine Meadows is the best of all the Tahoe resorts for skiers and riders who are seeking some major challenges. Some of the lifts are expert only. If you love a challenge, this is the place to be – powder day or not.
Yet there's still lots of good intermediate terrain that's very appealing at Squaw. With 29 lifts and a huge amount of diverse terrain, even on busy weekends it's possible to find lifts that aren't overly crowded.
Although known for skiing and riding, there's much more to do at Squaw Valley. If you're looking for family fun, this is the place.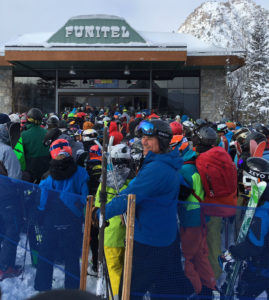 "What I love about it here is that skiing and riding aren't your only adventure. Snow tubing, yoga, exploring the Olympic museum, hopping into one of the eight outdoor hot tubs, outdoor après, shopping … there's always something active to do," said Squaw Valley spokeswoman Liesl Hepburn. "And we also don't mess around when it comes to events. We have music festivals, dawn patrol, kids' parties, interactive fundraising events, and whacky contests like the Cushing Pond Crossing."
Here's a look at a few of the diverse activities at Squaw Valley Alpine Meadows.
Tubing: There are four lanes typically in use and they are relatively fast tracks, which will be entertaining for the kiddos and adults.
"I was surprised at how fast you go," DJ Brown of Rocklin said. "You better hang on tight because you get down that hill very quickly. Our family had a lot of fun on the tubing hill."
Snow tubing is located at SnoVentures Activity Zone in the base area of Squaw Valley, adjacent to the parking lot. Note that individuals must be 40 inches tall to ride and able to independently get in and out of the tube.
Mini snowmobiling: Also located at SnoVentures, this activity is for kids only. They must be age 6-12 and can strap on a helmet and ride around the groomed, oval snowmobile loop. This is major fun for kids.
Cross Country skiing: The Nordic Center is located at nearby Resort at Squaw Creek and offers approximately 18 kilometers (400 acres) of groomed trails that wind through the stunning Squaw Valley meadow and surrounding hillside.
Trails open at 9 a.m. and close at 5 p.m. daily during the winter season, weather and conditions permitting. Nordic equipment can be rented. The trails are 70% beginner, 20% intermediate, and 10% advanced.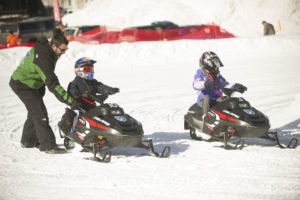 All trails originate at Squaw Creek, which is just a short, complimentary shuttle ride from the Squaw Valley parking lot.
Snowshoeing: This fun activity is also located at Squaw Creek.  Squaw Valley's snowy meadow and designated trail system makes for a great walk in the snow. The Nordic Center is the snowshoe rental area for adults and kids.
Other activities: Squaw offers a scenic Tram ride, a 10-minute ascent that climbs 2,000 vertical feet and soars above a snowy mountainscape of granite rock.
There's also the thrill and excitement of Dog sledding and a 1,000 square foot studio – Wanderlust Yoga Studio in Squaw Village.