One day after eight Lake Tahoe ski resorts closed for the 2017-18 season, skiers and snowboarders were enjoying a powder day after 8 inches of fresh snow dropped on Squaw Valley Alpine Meadows.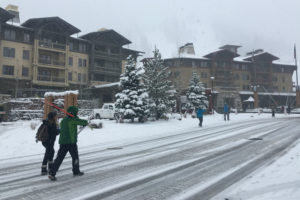 With 8 inches of new snow overnight, Squaw Valley Alpine Meadows officially hit the 400-inch mark of cumulative snowfall for the 2017-18 winter season. After 227 inches of snow (nearly 19 feet) fell in March alone, the resort has seen several April storms and now has 403 inches this season.
The season won't be over soon. Closing day for Squaw Valley Alpine Meadows is scheduled for Memorial Day, May 28, weather and conditions permitting. That means skiers and riders have more than 40 days left in the season.
Squaw Valley Alpine Meadows announced this week a "Spring Vertical Challenge." Running through April 30, the Spring Vertical challenge will reward guests who ski or snowboard 10,000 or more vertical feet in one day with special offers in The Village at Squaw Valley. The offers are valid between 3-5 p.m. on any day in April for App users who skied 10,000 or more vertical feet that same day.
Guests can ski and ride free at Squaw Valley Alpine Meadows this spring with a 2018-19 Ikon Pass. North America's newest season pass product offers more than 63,000 skiable acres of unique terrain at 26 premier mountain destinations. For more information please visit www.ikonpass.com.
Two other Lake Tahoe ski resorts also remain open. Heavenly Mountain is scheduled to close Sunday, April 22, and Mt. Rose in Nevada shuts down a week later – April 28.
Eight Lake Tahoe ski resorts closed Sunday (April 15) in what was an up-and-down 2017-18 ski season.
There was a promising start to this ski season, but dismal snow totals in January and February looked to derail the winter sport. However, multiple storms arrived in March to give the ski season a strong finish. Many resorts will be closing with a good amount of snow still on their slopes.
Despite some fresh snow in April, Kirkwood Mountain didn't reopen after being the first Lake Tahoe ski resort to close – April 8.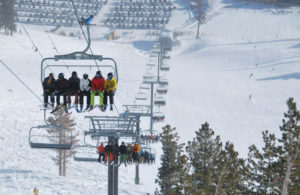 Closing time has arrived for Diamond Peak, Northstar California, Soda Springs, Granlibakken, Boreal Mountain, Homewood Mountain, Sugar Bowl, Sierra-at-Tahoe, and Tahoe Donner.
2018 Closing Dates
Kirkwood Mountain: April 8
Diamond Peak: April 15
Northstar California: April 15
Soda Springs: April 15
Boreal Mountain: April 15
Homewood Mountain: April 15
Sugar Bowl: April 15
Sierra-at-Tahoe: April 15
Tahoe Donner: April 15
Granlibakken: April 16
Heavenly Mountain: April 22
Mt. Rose: April 29
Squaw Valley: May 28
Alpine Meadows: May 28