The second annual Silver Belt Series at Sugar Bowl ski resort began Saturday and will continue with an event later this month and conclude in early April.
The three-event series at Sugar Bowl is designed for skiers and snowboarders of all ages, ability levels and interests. Participants can register for just one or all three events. In partnership with the Excellence in Education Foundation, High Fives Foundation and the Sierra Avalanche Center, events will include a downhill, a banked slalom, and an uphill touring.
"The Silver Belt Series is a fun way for skiers and snowboarders with different interests and ability levels to explore Sugar Bowl," said Jon Slaughter, director of marketing and sales at Sugar Bowl Resort and Royal Gorge Cross Country. "This series was designed to be inclusive of different types of snow events, and a way for our resort and our guests to give back to local nonprofits that support our entire community."
The Silver Belt Series kicked off Saturday, Feb. 10 with "D Money's Dozen." It will be followed up by the "Banked Slalom" on Feb. 24 and conclude on April 7 with the "Quad Crusher."
Registration for each event is available online in advance at sugarbowl.com/silverbelt, and will take place on-site at the resort the day of the event. All events will take place weather and conditions permitting.
Banked Slalom, Feb. 24: In support of the High Fives Foundation, this timed event will combine speed and style as participants weave their way down the slopes of Sugar Bowl. Registration is $30 per person in advance, $35 day-of.
Quad Crusher, April 7: An endurance race staged across Sugar Bowl's four iconic peaks – Mt. Judah, Mt. Lincoln, Mt. Disney and Crow's Nest Peak – the uphill event will test stamina, grit and determination while highlighting Sugar Bowl's beauty and terrain variety.
Two divisions and distinct courses will make this event fun for both seasoned athletes and passionate citizen uphillers. The event will conclude with an awards celebration, food, drinks and raffle with proceeds benefiting the Sierra Avalanche Center. Online advance registration is $75 per person for elite division entry, $75 per person for "citizen" division individual entries, or $90 per two-person team entries.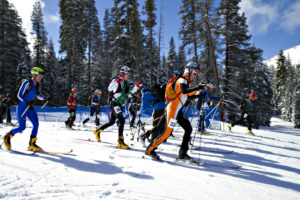 The D Money's Dozen, held Saturday, required participants of all ages to ski or ride the 12 favorite off-piste runs of Olympian Daron Rahlves, a Sugar Bowl athlete and the most decorated male American Downhill and Super G skier in history.
Lift ticket or season pass are required for participation in each event. Those interested in participating can register and find out more at www.sugarbowl.com/silverbelt.
Located on Donner Summit, Sugar Bowl offers the closest skiing to the Sacramento area. The resort is open daily from 9 a.m. to 4 p.m. conditions permitting, and is offering discounts on lift tickets when purchased online at least two days in advance.
For more information or to plan a trip to Sugar Bowl Resort this winter, visit sugarbowl.com.