Skiing at Sierra-at-Tahoe just got a little better, thanks to an agreement with several other Northern California ski resorts.
Sierra-at-Tahoe is offering free skiing to passholders of neighboring resorts with its new "Have One On Us" program. Passholders from Dodge Ridge Ski Area and China Peak Mountain Resort will be granted one day of free skiing at Sierra-at-Tahoe through the end of February.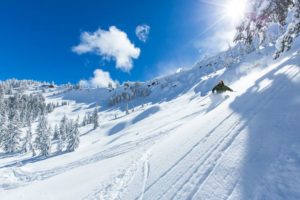 "This winter has been a fickle one. While we are able to provide most of our mountain, other resorts in Northern California haven't been as fortunate by no fault of their own," Sierra-at-Tahoe General Manager John Rice said. "We hope this program will provide relief and additional value to their guests who've invested money in the season and just want to enjoy some turns."
Free skiing for eligible passholders is available Sunday through Friday, non-Holiday until February 28, 2018. Blackout dates include February 17 and February 18. To redeem their free ticket, passholders will present their valid 17/18 Season Pass for Dodge Ridge Ski Area or China Peak Mountain Resort.
Sierra-at-Tahoe is excited to offer free skiing to fellow winter enthusiasts. It gives a chance for people to enjoy skiing and snowboarding in Tahoe while eliminating the cost barrier. For non-passholders, day tickets can otherwise be purchased at any ticket window or online at www.sierrattahoe.com.
Located just 12 miles from South Lake Tahoe, Sierra-at-Tahoe offers Ski & Stay packages with local resorts and casinos. The resort boasts 2,000 acres and 2,212 vertical feet of terrain with some panoramic views of Lake Tahoe from the summit.
Sierra-at-Tahoe has a $49 beginner package that's ideal for beginners.
For more information, visit www.sierraattahoe.com.