For season passholders at Sierra-at-Tahoe ski resort, an extra day to enjoy the snow has been set aside.
Sierra-at-Tahoe will hold Customer Appreciation Day on Monday, April 16. This event is dedicated to loyal Sierra customers, and gives skiers and snowboarders a last chance to enjoy sunshine in the snow before switching gears to summer.
For non-passholders, the official closing date for Sierra-at-Tahoe is Sunday, April 15.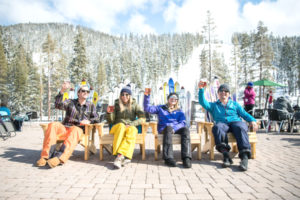 All season passholders can ski or ride for free, with lift tickets available for only $35. All proceeds from lift tickets on Customer Appreciation Day will benefit youth recreation and education including baseball, soccer, swimming and other youth activities in South Lake Tahoe.
"Customer Appreciation Day is our way of saying thank you and giving back to the community we love so much," says General Manager John Rice.
Sierra-at-Tahoe will operate a limited number of lifts from 10 a.m. to 2 p.m., including Grandview Express and Easy Rider Express. All guests are invited to join John Rice and the rest of Sierra's team for the official "last run of the season" from the top of Grandview Express beginning at 2 p.m. Last call at the Sierra Pub will be 2:45 p.m., in time for the ending of all winter operations at 3 p.m.
Customer Appreciation Day is also a great opportunity to pick up your 2018/2019 Certified Unserious Season Pass. Just $349 for Adults, $299 for Young Adults (13-22) or College Students (proof of 6 Fall 2017 credits), and only $149 for Children (5-12) or Super Seniors (70+), this is a deal to take advantage of.
Northstar California and seven other Lake Tahoe ski resorts will be closing Sunday in what was an up-and-down 2017-18 ski season.
2018 Closing Dates
Kirkwood Mountain: April 8
Diamond Peak: April 15
Northstar California: April 15
Soda Springs: April 15
Boreal Mountain: April 15
Homewood Mountain: April 15
Sugar Bowl: April 15
Sierra-at-Tahoe: April 15
Tahoe Donner: April 15
Granlibakken: April 16
Heavenly Mountain: April 22
Mt. Rose: April 29
Squaw Valley: May 28
Alpine Meadows: May 28