A destination resort all year long and especially in ski season, South Lake Tahoe announced recently it has many new lodging upgrades for the 2015-16 season.
Lodge at Edgewood Tahoe, which broke ground Oct. 1. When completed in early summer 2017, the LEED-designed 169,000 square-foot $100 million project will increase local overnight lodging with 154 new hotel rooms, a centerpiece lodge reminiscent of the great national parks, health spa, bistro style restaurant and bar, plus conference and event center.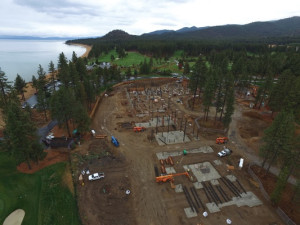 Plans also include 40 fractional residences, golf course enhancements, and expansion of the existing clubhouse. The property will also deliver significant water quality benefits for the 4,200-acre Edgewood Creek watershed with enriched wetlands, new fish and wildlife habitat, and upgraded storm water systems for urban areas upstream.
On the California side, the new three-story development Zalanta Resort at the Village, located within the Château at the Village is set to open in 2017 and will feature 19,571 square-feet of retail shops and restaurants on the ground level, and 30 two, three and four bedroom condominiums with full service amenities on the upper floors. The $25-30 million development is located at the state line across from the Heavenly Village and adjacent to Harveys Lake Tahoe.
Tahoe Beach Club, a 20-acre, 143 luxury condominium development, is the first whole ownership project on the lake in over 30 years. Located adjacent to the Edgewood Tahoe Golf Course the development will feature a private pier, lakefront clubhouse, health club, spa, pool, food and beverage. Phase 1 of this gated community is scheduled for occupancy fall 2017.
Inn by the Lake, located a few miles south of the casinos near Lakeview Commons beach, is investing $2 million this winter to renovate 65 of their 99 rooms with new bathrooms, furniture, carpets and paint. In addition, heated sidewalks, new roofing, and paint in the event center, lobby and pool buildings will complete the upgrades. The remaining 34 rooms will be revitalized the following season.
The 2015 Tahoe South resort renaissance featured the opening of the $60 million Hard Rock Hotel & Casino Lake Tahoe, $24 million remodel of MontBleu Resort Casino & Spa, $12 million in renovations at Harrah's Lake Tahoe. Tahoe South also added a number of new restaurants, bars and eateries including the Highland Bar at Harrah's, California Burger Co. in the Heavenly Village, Cold Water Brewery in mid-town, Harumi Sushi in Round Hill, and Agave Azul Mexican Grill in Stateline.
"The commitment of capital and confidence for infrastructure improvements and development from both area entrepreneurs and outside investors, complements the destination's unique combination of outdoor recreation, dining, gaming and lodging to provide a memorable experience," said Carol Chaplin, executive director of the Lake Tahoe Visitors Authority. "Combine that with the anticipated snowfall from El Nino influencing weather patterns and we're primed for an epic winter."
Jeffrey Weidel can be reached at skiweidel@gmail.com. Thanks for visiting his website at www.tahoeskiworld.com