One ski resort has already shut down for the season and eight more Lake Tahoe ski resorts will close this weekend.
Despite some fresh snow this week, Kirkwood Mountain will not reopen after being the first Lake Tahoe ski resort to close – April 8.
Kirkwood will have plenty of company late Sunday afternoon (April 15) when eight more Lake Tahoe ski resorts pull down the curtain on the 2017-18 season. Closing time has arrived for Diamond Peak, Northstar California, Soda Springs, Boreal Mountain, Homewood Mountain, Sugar Bowl, Sierra-at-Tahoe, and Tahoe Donner.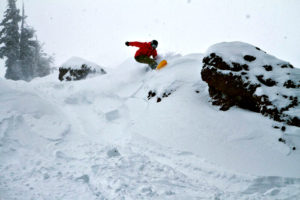 Sugar Bowl had contemplated staying open longer, but announced this week that it would stick to its April 15 closing date.
Sugar Bowl is telling skiers and snowboarders to "come on out and get your last turns of the season in with a little new snow, sunshine, and live music on the Judah Lodge patio both Saturday and Sunday afternoons. Thank goodness for Miracle March – without all that March powder the season would surely have qualified as a dud!
Squaw Valley Alpine Meadows says it will remain open through Memorial Day weekend, shutting down May 28. Heavenly Mountain has an April 22 closing planned and Mt. Rose announced it will be offering skiing and riding until April 29.
Squaw Valley Alpine Meadows announced this week a "Spring Vertical Challenge." Running through April 30, the Spring Vertical challenge will reward guests who ski or snowboard 10,000 or more vertical feet in one day with special offers in The Village at Squaw Valley. The following offers are valid between 3-5 p.m. on any day in April for App users who skied 10,000 or more vertical feet that same day.
Check out the Spring Loaded Challenge offers here.
2018 Closing Dates
Kirkwood Mountain: April 8
Diamond Peak: April 15
Northstar California: April 15
Soda Springs: April 15
Boreal Mountain: April 15
Homewood Mountain: April 15
Sugar Bowl: April 15
Sierra-at-Tahoe: April 15
Tahoe Donner: April 15
Granlibakken: April 16
Heavenly Mountain: April 22
Mt. Rose: April 29
Squaw Valley: May 28
Alpine Meadows: May 28