Diamond Peak ski resort recently opened its new terrain park that features a gorgeous view of Lake Tahoe.
After receiving 14 inches of fresh snow and extensive snowmaking efforts, Diamond Peak Ski Resort opened nine more trails and unveiled the Lakeview Terrain Park that has six features.
The resort in Incline Village has 16 of 30 trails available and top-to-bottom coverage for all ability levels for skiers and snowboarders.
The Lakeview Park debuted with all new features built by Diamond Peak's Slope Maintenance team. Medium-sized features include a Hitching Post, Double Barrel Rail, and a 25-foot jump. Smaller features include a Rainbow Box, Flat/Down Box and a small jump.
Recycled trail map boards were used for the top graphics on the boxes, cutting down on waste and lending a one-of-a-kind look to the pristine terrain park features.
"The Lakeview run is an area that we noticed was kind of quiet and had great potential for a terrain park." said Matt Melilli, Slope Maintenance Manager. "What our team has created is more of a progression park, with something for everybody. You can come ride for your first time in a terrain park, but also progress to hitting some our medium rails and jumps."
Additional park features will be added throughout the season. Diamond Peak still plans to open the Spillway Terrain Park with larger features when conditions permit.
In addition to Lakeview Run, the resort opened The Great Flume and Spillway trails, thanks to snowmaking Feb. 2. It's easy to make quick ride laps in the park when the Ridge chairlift is running.
Accessible via the Crystal Express and Ridge chairlifts, the new Lakeview Terrain Park offers creative features and a layout more focused on building confidence and preparing safely for Diamond Peak's larger features in the Spillway Terrain Park.
Lakeview Terrain Park has an incredible Lake Tahoe backdrop, perfect for photo opportunities for skiers and snowboarders. Their photos and videos on Instagram with the hashtags #diamondpeak and #lakeviewterrainpark can be entered to win a Diamond Peak prize pack. Winners will be selected weekly during the month of February.
"This trail previously had snowmaking, but we brought our most advanced and newest guns on here to get it open," Melilli said. "Mother Nature also brought us over a foot of snow recently, which helped us build it out and get the features we wanted."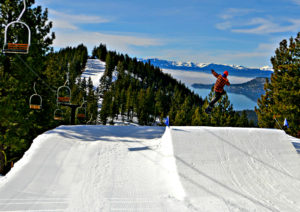 Diamond Peak's new PistenBully 400 ParkPro 4F grooming machine was also used to construct the new terrain park. The new 400 ParkPro 4F grooming machine is the second ParkPro groomer in Diamond Peak's fleet of five snow cats.
"The ParkPro is a machine that was designed around the needs of terrain parks, but its enhanced features and ergonomics make every task on the mountain easier," said Mountain Operations Manager Jay Rydd. "Diamond Peak already had one ParkPro, so adding a second one just multiplies what we are able to do every night."
For more information or to check the snow report, visit DiamondPeak.com or call 775 832–1177.